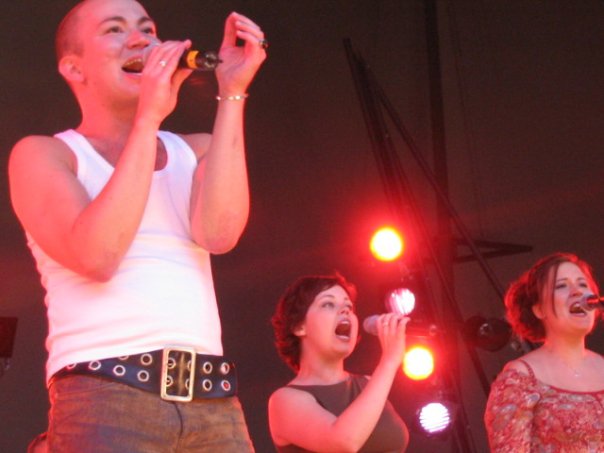 Singing together with others is one of the most beautiful things there is! I have sung in many group settings myself, from choirs, a cappella groups to backing vocals, and worked as a choir conductor. Currently I am the artistic director of the Finnish female choir TAIKA in The Netherlands.  I love vocal music, and know what it takes to work together as a group to achieve a musical end product.
I coach vocal and a cappella groups, vocal ensembles, choirs, and bands with multiple singers.
I can help you with improving vocal technique, intonation, sound, blending, varying vocal timbre and dynamics. If you are looking for ways to increase spontaneity, deep listening and group communication skills, we can work together with a variety of exercises and tools drawing from improvisation. To improve rhythm, timing and groove, I draw from a variety of methods that focus on increasing the inner feel of rhythm and pulse.
The most powerful aspect of music is communication. I can help you improve your stage presence and performance, give you tools for song interpretation, so your music can communicate directly to the hearts of your audiences. Being a native Finnish and Swedish speaker, I also offer language coaching for choirs and vocal groups that wish to work on repertoire in these languages.
Group and choir coaching always happens in close cooperation with the conductor or band leader, to ensure that the technique and/or performance coaching supports the artistic vision of the group. Coaching is available worldwide, on location as well as through online videoconferencing (and yes, it works really well, even with choirs!). Schedule a free chat to discuss your vocal coaching wishes:
TESTIMONIALS
São Vicente A Cappella, Rio de Janeiro (BR). Dir. Patricia Costa:
"I've had the pleasure to have Katja working with my choir (São Vicente a Cappella) for a month, down here in Rio de Janeiro, Brazil. During this time we've had a great improvement in vocal technique, for she was able to share with us her special approach to build a good sound quality. Her ideas were always quite clear, she was very secure and objective, and my singers had no difficulty in understanding what she wanted to reach. Besides being a very good coach, Katja seemed to have gotten the "carioca" style of communicating, being very joyful and teaching with pleasure all the time. The great challenge was to teach my singers to pronounce Finnish, in Armottoman Osa. We've had a lot of fun, getting to know a little about such different culture, through this amazing piece! I am looking forward to having Katja visiting Brazil again, and being able to work with my group once more."
Spectra, Butler University, Indianapolis (USA). Dir. John Perkins