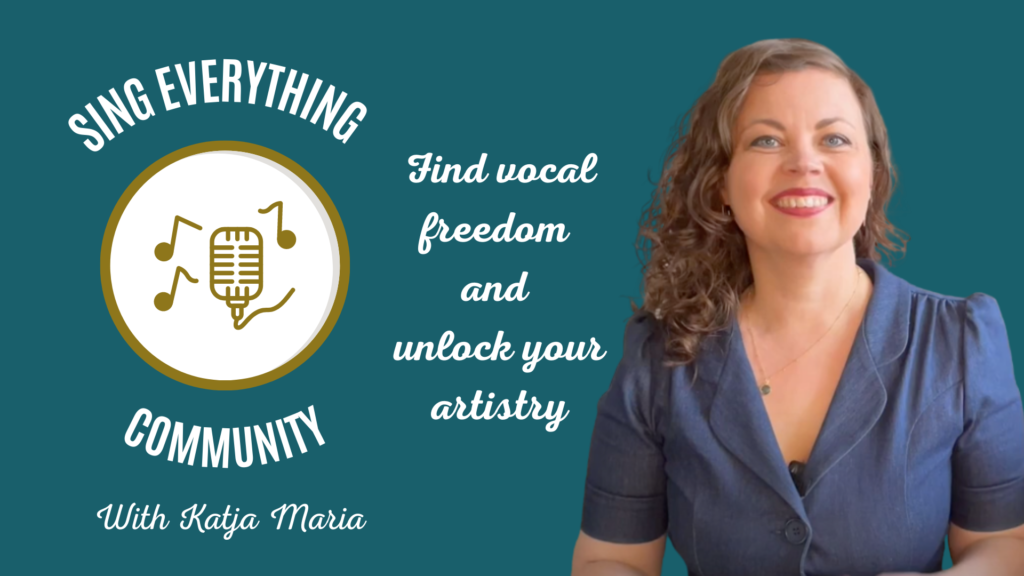 Are you a curious voice explorer and lifelong learner who loves exploring new techniques and approaches to grow vocally and artistically?
Are you a singing teacher who is looking to expand your toolbox to help your students in their vocal and artistic development?
Are you bored with your singing practice and would love some new inspiration and the opportunity to be surrounded by other like-minded people for a motivation boost?
Are you the type of singer who loves learning and figuring out things by yourself, implementing totally at your own pace…but still want to have the possibility to meet up with a coach now and then?
Are you looking to get started with your voice work, but is a continuous commitment to twice-monthly or weekly sessions not matching your time or budget right now?
I've got good news for you! I've created a place where you can get started with your voice journey, find new inspiration and sharpen your already amazing skills as a singer or teacher, and learn TONS at a price-point that's insane!
Introducing:
Sing Everything Community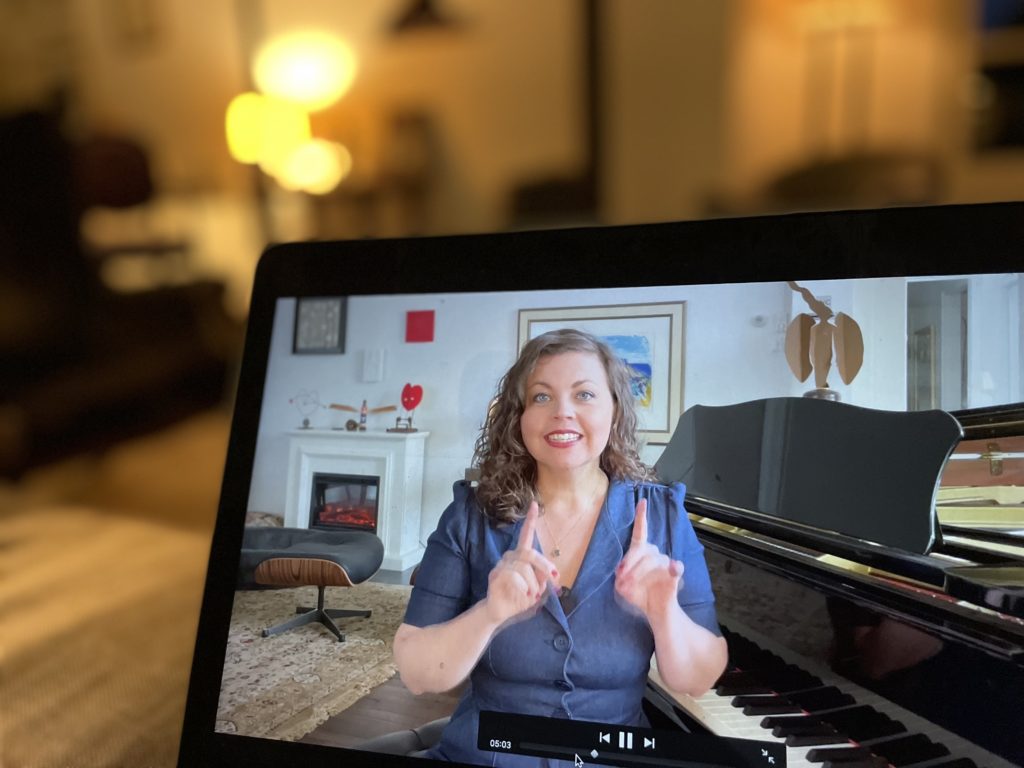 This year, I'm looking forward to creating an entirely new workshops series based on monthly themes, and dive deeper into artistry, mindset related to singing and practice, and holistic approaches to connecting to your voice, solving vocal problems, and developing your signature sound. I'm also looking forward to inviting some amazing guest experts from all over the world, who we can learn from as a community! If that sounds exciting to you, I hope you'll consider joining Sing Everything Community!
As a member of Sing Everything Community, you'll have access to:
A monthly LIVE workshop
You'll have an all-access pass to a monthly 2-hour workshop in voice & artistry.
Best thing? Workshop topics are informed by members, which means: you have a say in what kind of live trainings and voice explorations you'd love to see in the membership!
Example topics include:
Sing across different styles
How to access and train your "mixed voice", your "belt", etc…
Release tension and strain
Access a wider palette of sound colours in your voice
How to sound more "contemporary"
How to sound more "pop", more "rock", more "jazzy", etc..
Give your songs your personal touch with melodic and rhythmic variations
Improve your sense of rhythm and 'groove'
Connect to playfulness with vocal improvisation
Bring your songs alive with dynamic landscaping
Explore the body-voice-mind-energy connection
Prepare your voice, body and mind for practice and performance
Learn to design your own warmups
Develop your storytelling
Access vocal effects like intentional vocal breaks, creaks, distortion, growl, and more
…and much more!
We'll be taking monthly polls to design a customised learning experience for our members, and besides a lot of vocal exploration and learning in the live workshops, there'll be time for Q&A's as well. After the monthly workshop, you'll also have access to any workshop resources (handouts, mp3s, playlists) to support you in your own practice, and you can ask me questions in our private community (that is not on Facebook – so distraction-free zone 🙂 and no algorithms deciding what posts and comments you see, yay!).
I'm also looking forward to doing special surprise events inside Sing Everything Community, and excited to bring curious voice explorers together in this dedicated space for lifelong learning about the wonders of the voice.
Here's what other singers are saying about the workshops and classes:

"I've performed and recorded for years. At some point I noticed I started putting songs in lower keys, because it felt more comfortable for my voice. Sing Everything has made me ready to make full use of my vocal range. Now I have more control, especially over the use of the whole wide spectrum of tone colors that my voice is capable of. Not only do I have a better understanding of my instrument, but also more possibilities for musical expression."

Estrella A.
"To me, singing is a lifetime study project and even after ten years of professional gigs I have heard many ideas, concepts and practice methods in Katja's class that I'd never even thought of before!"

John M.
"Sing Everything was my first experience ever in taking a voice class online, and it was really good! Within the first 15 minutes of my first online class, I completely forgot I was in an online lesson, and felt like I was sitting in the same room, at the same table with Katja."

Nico T.
…and that's not all! You'll also have access to:
The Sing Everything Vault, an ever-growing resource for voice & artistry training
As a member of Sing Everything Community, you also have access to the big Sing Everything Vault, a goldmine for vocal training.
The Vault currently contains more than 130 classes, video & audio lessons, and new resources are added monthly to the Vault to support you on your path as a singer, vocal performer and teacher! Best thing? As a member of Sing Everything Community, you have a say in what kind of resources you'd like to see added to the Vault!
If you want to see an overview of all the resources currently available in the Vault, click here.
Other singers are already loving the Vault:
What a huge gift, that Vault!! I enjoy it to the fullest! So nice to just follow a step-by-step workout and to not have to make it up myself!

Judith L.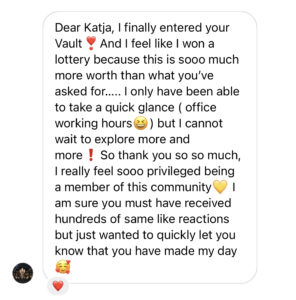 With your 1-year all-access pass to Sing Everything Community, you get the flexibility you're looking for AND pro vocal training for less than what you'd pay for a month of 1:1 lessons!
Want even more flexibility? We have a monthly plan too: hop on for vocal inspiration and exploration, cancel anytime and join again when it suits you! (But truth be told, you'll get so much value and it's way too much fun in the monthly live meetings, so you'll want to be hanging out with us for a while 🙂 And we love having you around!)
---
Sing Everything Community
Month by month subscription. Cancel anytime.
Save €120 when you join for 1 year! (€35/month)
Prices are in Euro. VAT is added to the total sum (where applicable).
Access to the Sing Everything Vault.
Monthly 2-hour workshop with Katja / Katja + guest teacher.
Inside the community, we'll poll best workshop dates / times to create a schedule that suits our international community and many time zones! Replays available.
NEXT WORKSHOP: VOCAL PLAY – (RE)CONNECT TO YOUR VOICE, SILENCE YOUR INNER CRITIC AND FIND MORE VOCAL FREEDOM THROUGH VOCAL IMPROVISATION EXERCISES
WEDNESDAY 22 FEBRUARY 6:30 PM CET (AMSTERDAM) / 12:30 PM ET (NEW YORK) / 9:30 AM PT (LOS ANGELES)
Already a Sing Everything Vault member? Read this:
If you already have purchased early-bird access to the Sing Everything Vault, you'll be emailed a special link with which you can join Sing Everything Community and get access to the monthly live workshops with a Vault member discount.
Looking for some more personal guidance and feedback on your practice?
Apply for one of the Sing Everything Power Groups to boost your singing goals. Spring 2023 enrolment is now open! As a Power Group member, you automatically have access to Sing Everything Community.
---
"Katja is a fountain on knowledge on all things related to the voice, from vocal pedagogy to focused practise sessions, and the classes in Sing Everything are great if you want to better understand and analyse your own or others' vocal technique and use clear and concise models to understand what is happening with the voice. I found the tools for practising and using the voice to be invaluable, and it has given me a strong framework to use for future progressions."

James H.
---
Hi! I'm your host Katja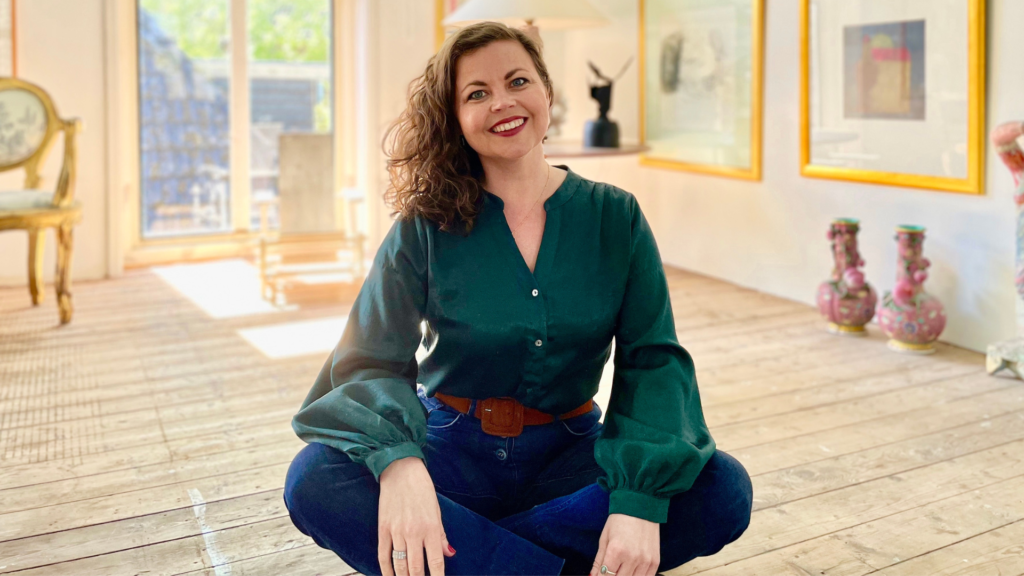 I'm a singer, musician, singing teacher, voice technician, creativity, artistry, mindset and life coach for artists. I draw from a strong background in music education and vocal pedagogy, an eclectic training in various music styles and vocal improvisation, and experience as performer and theatre maker, coach, consultant and strategist for artists and teachers.
Over the past 20 years, I've been a singing teacher and vocal coach for aspiring and professional singers and actors, a theatre maker and vocal coach for talent development productions, a Complete Vocal Technique teacher, choir leader, a music education trainer for teachers, and a teacher of voice and music interpretation at Codarts University of the Arts Music Theatre department in Rotterdam (NL).
As a singer, musician and performer, I've toured Dutch theaters with my own show, played in bands, contemporary dance and theatre productions, entertained as a singer-pianist, performed fully improvised concerts, sung in choirs and a cappella groups.
I'm passionate about helping artists like you – who love to express themselves with the singing voice – tap their creative Source, find their own voice, communicate with presence, power and artistic freedom, so you can maximize your potential as a vocal artist, performer, musician and teacher. Together, we'll explore your possibilities so that you can gain full artistic freedom to choose your sound and deliver your message with confidence.
If we haven't met, join my free Facebook group here or follow my stories on Instagram where I hang out daily so you can know my work.
See you in Sing Everything!
See you in Sing Everything!