Proven techniques and skills for vocal freedom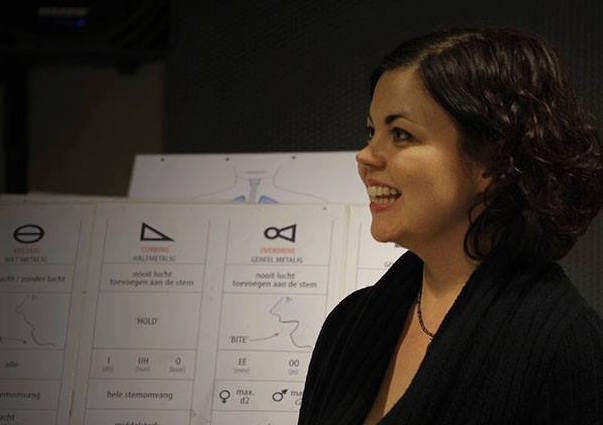 Welcome to Sing Everything, an online group coaching program to help you create a roadmap to a voice that can sing with ease in any style.
---
Doors are currently closed.
If you want to dive deep into vocal technique, Sing Everything is the course for you. 8 weeks of voice work, guided practice and feedback, and a library with lesson materials and bonus content that you can continue learning with long after the 8-week live coaching program has ended. And that's not all: as a Sing Everything course participant, you get to repeat the live round of the course as many times as you like, for no extra cost! Every time a new live round opens, you can return to class to refresh your knowledge. This will be the one of the best investments you'll make in yourself as a singer and singing teacher!
---
You have come to the right place if you…
…want to sing with more freedom and without tension.
…want to sing with ease across different styles of music: pop, jazz, rock, country, folk, musical theater, Afro-Cuban or Brazilian music, flamenco, classical, and more.
…are struggling to find your voice and would love to have someone guide you in the process.
…feel overwhelmed when it comes to navigating your way through the abundance of information about the singing voice and exercises to choose from. You don't know where to start!
…have been studying vocal techniques on your own like crazy, but find it difficult to apply the techniques and concepts you've learned into your own singing.
…have tried out every free YouTube singing tip available, and are tired of D.I.Y:ing. You want guidance from an experienced and qualified voice teacher.
…are in search of a reliable, research-supported online singing course that is designed to get practical results, and where you can interact live with your teacher.
…want to smoothe out the gap between your 'chest' and 'head' voice, learn how to 'belt' and have more power in your voice, develop your range and sing with more flexibility.
…want to learn how to sing in a healthy way without compromising your unique sound.
…would like to develop a more refined technique to bring out subtleties in music, and be able to express a wide range of emotions in your voice.
…feel frustrated when things don't work well and don't know how to troubleshoot yourself.
---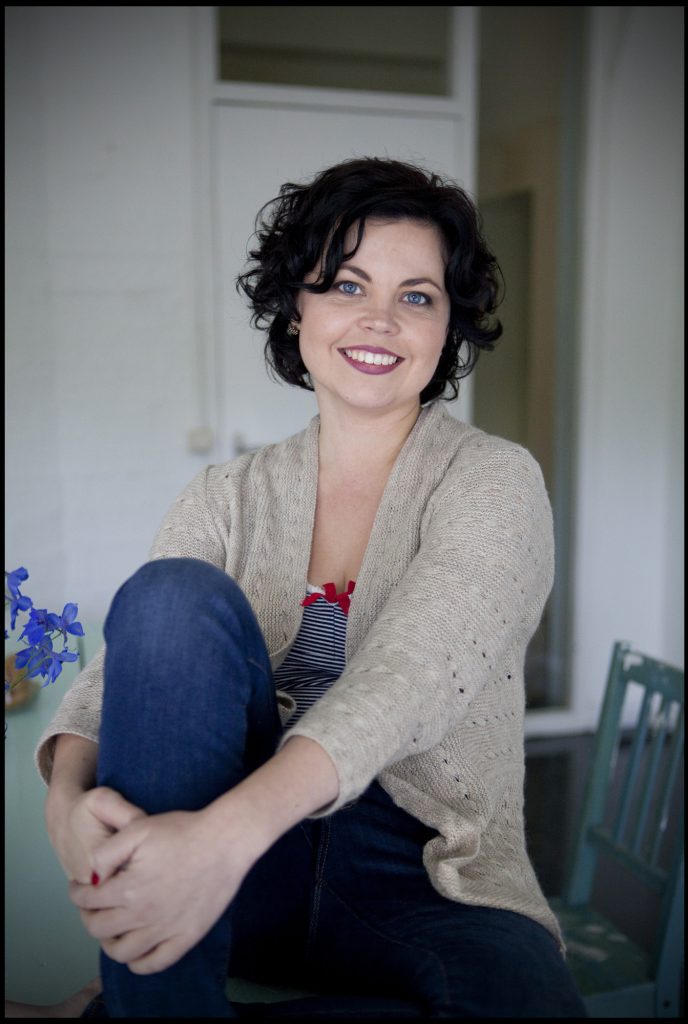 Hi! I'm Katja.
I'm a singer who has always loved teaching, and later turned into a voice geek. I have been singing for as long as I can remember, and started formal voice lessons when I was 13 years old. Sometimes I made progress and sometimes I just couldn't figure out how to sound in a specific way, no matter how much I tried. The voice was a big mystery to me!
I started teaching at quite an early age, because I was curious about how things work, about how to structure knowledge and deliver it in accessible ways. While teaching, I came across more mysteries about the voice.
My own singing frustrations paired with my wish of being able to help the singers I worked with even better, led me on a big quest: I wanted to figure out how the voice really worked! Through extensive studies I found out that it doesn't have to be a big mystery! There's a roadmap to the voice, and to all the sounds we want to make.
If you're ready to learn all the voice work essentials that I've gathered over the past 20 years of studies, performing and from teaching thousands of singers, you're welcome to join me in class!
---
Success stories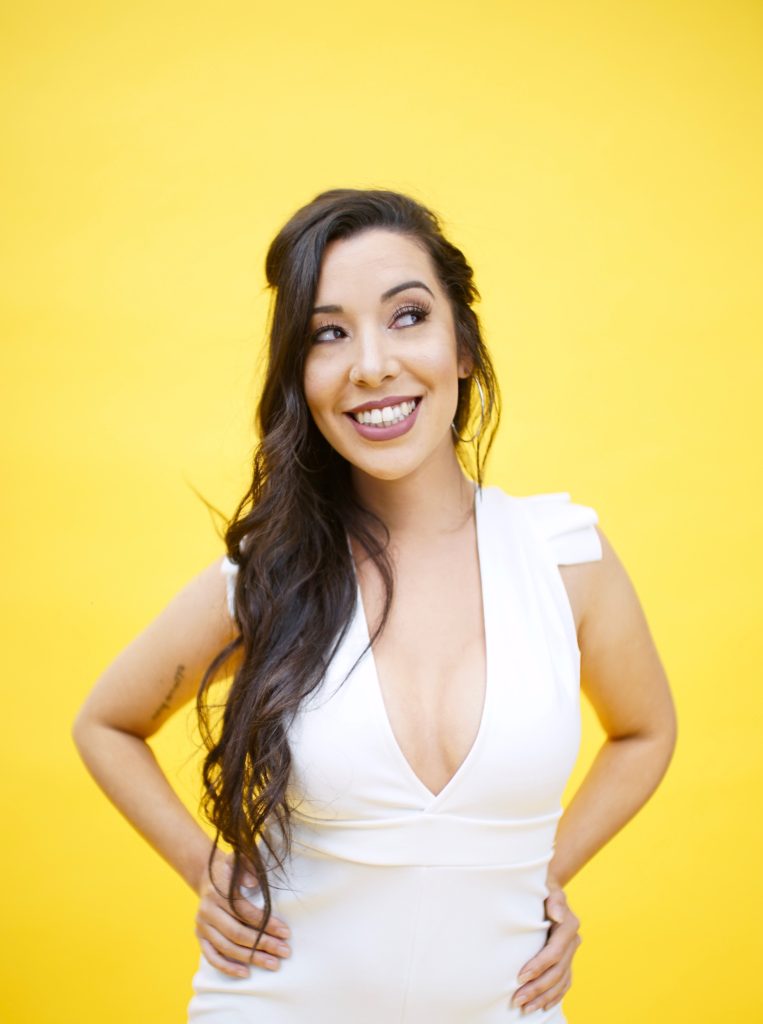 I've studied classical singing, had voice lessons at a musical theatre school, and at the conservatory for popular music. Two years ago, I started my own singing school. With the techniques I studied before, including the musical theatre studies, I still couldn't access all the sounds I wanted to produce. Some teachers told me: "These sounds are not healthy", and others said "It's this singers' personality that makes them sound like this, you are different". And of course, I have my own personality too, but what if I want to make that sound? I knew it must be possible for a human voice to do so, because I was hearing it! So hearing it wasn't possible, made me feel very frustrated. I tried on my own, and I was close to sounding like I wanted to, but it didn't feel comfortable yet.

So I started searching for answers on YouTube, and that's how I ended up finding Katja too. YouTube is a great resource, but because I also wanted to be able to teach a variety of techniques to my own students, I didn't feel that learning only by watching YouTube clips only was responsible enough.

Sing Everything was amazing! It was my first time studying online, and to be honest, I was a bit sceptical. I was wondering what I'd learn from studying with a real person, and how this would be different from watching videos. It was like having Katja in my own home! Katja's personality makes it very easy to establish a connection with her. Some teachers use difficult words and are very serious and solemn in their approach, which creates a distance, but the way Katja teaches feels very personal and easy to understand. And the results are right there! You don't have to wait six weeks to hear results, it's right there!

I'm now adding new songs to my repertoire with much more confidence, I know that I can do it! Now it's easier and faster to find out what I have to do in order to sound in a specific way. And I also developed a more kinaesthetic sense: I feel that I am now very connected to my body and aware of how to move and fine-tune very specific parts. I loved the layered approach of tuning the vocal tract, one part at a time.

I got so much out of the course as a teacher too. Explaining breathing and support to my students is now suddenly so easy! Now I can explain vocal technique to my students in a much more organized way, and really build things up "completely from scratch". I feel more confident as a teacher, and my students love what I can offer them now.

The online platforms that Katja uses for her course are very easy to use and make the learning experience fantastic. The course page with the lesson materials and lesson replays is always open in my internet browser, it's like a reference library I can return to whenever I want to.

It's super comfortable too: you can immerse yourself in deep study while being at home in your pyjamas and slippers! And it's not like you're spending time with your computer, but you're connected with other people around the world who are sharing exactly the same passion for the voice as you have. What could be better than that!

Ayelen Insua, Singer & Singing Teacher, Argentina
---
You'll love this course if you are a:
Aspiring singer who wants to be guided by an experienced teacher.
Seasoned vocalist who is keen to brush up on your technical skills.
Voice nerd who wants to learn more about new science-based techniques and methodologies.
Classically trained singer who wants to learn to sing contemporary commercial music styles.
Rock singer who wants to learn healthy techniques for powerful singing.
Musical theater singer who wants to gain vocal versatility.
Singer-songwriter who wants to explore more vocal possibilities without compromising your unique sound.
Jazz singer who (secretly) wants to sing rock.
Choir singer who wants to grow into a solist.
Choir director who wants to learn how to demonstrate a variety of sounds and techniques to their singers, find efficient tools for faster results.
Singer who wants to learn more about Complete Vocal Technique, Estill-related techniques, and other research-based methodologies in a practical way.
Success stories
---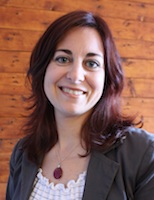 After having followed an online course with Katja, singing became more easy. I learned better breath support and became able to reach high notes with more ease. I feel my voice doesn't flip anymore, it's more stable. Before working with Katja, I did not know why I was doing certain exercices or scales, and I couldn't apply the techniques into my songs. As a teacher, the course gave me a LOT of tools – simple and efficient exercises, and easy ways to explain things. Now I have more tools to help my students directly in their songs!

– Carole Senecal, Singer & singing teacher, Canada
---
How the course works
Over 8 weeks, you'll develop a solid understanding of how the voice works, gain access to the vocal modes, and develop an awareness of your own vocal habits. By the end of the course, you will have a repertoire of techniques and exercises to help you sing with more ease. And what's more: I will not just hand you a box of tools, but teach you how to use with these tools in your own songs!
8 weekly live classes .
The course happens entirely online: we meet up for live classes on Zoom. (Don't worry if you've never used Zoom before, it's very easy, and I will guide you through all you need to know!) In between classes we meet up in our private Facebook group for practice feedbacks and tips, and all class recordings and other relevant learning materials are available for you on a members-only page on my website.
Every class is recorded. If you have to miss a class, or cannot attend any of them because the class time doesn't work out for you, you can still benefit fully from the course by watching class recordings, engaging in the FB group, submitting practice videos and questions for the Q&A's.
---
What you will learn
I am confident to say that you'll learn so much about your voice in these 8 weeks that it will blow your mind! Why do I say this? Because many of the singers I work with tell me they learn more about their voice with me in one lesson than they did after four years of studying at the conservatory.
Knowledge about how the voice works is a great thing. But knowledge alone doesn't make us sing the songs we want to sing with more ease. That's why an equally big part of this course is dedicated to how you practice. What makes this course unique, is that you will receive guidance in your singing practice for every step of the way. That's kind of like having a personal trainer or coach at your disposal!
The techniques and exercises are scaled, so that they build up in 'level'. I'll walk you through the steps from accessing a specific technique in your voice to implementing it in your repertoire. This makes the course accessible for aspiring singers as well as seasoned vocalists.
Curriculum
Week 1: How the breathing mechanism works. How to keep the air flowing in & out optimally for singing. Breath management strategies to help us access specific sounds with more ease.
Week 2: Breath management and support strategies. Managing tensions. How does body alignment affect our singing? What is support? How much energy and effort do various singing tasks require? How do you train support? Demystify the elusive term 'support' by looking into anatomy and learning support strategies that you can apply directly into your singing, without having to think about any muscles.
Week 3: Resonance: shaping the vocal tract, twang, oral and nasal resonance. These tools help you 'center' the sound so you can work less hard, and bring out 'sparkles' in the tone.
Week 4: Volume, dynamics and vocal modes: Developing a healthy 'belt'. How 'belting' can help you develop a stronger 'head voice'. Finding stronger notes in your lower range. Accessing and training the vocal mode Overdrive.
Week 5: Volume, dynamics and vocal modes: taking your 'belt' to the stratospheres. Learn what Pavarotti has in common with James Brown or Aretha Franklin! Accessing and training the vocal mode Edge.
Week 6: Volume, dynamics and vocal modes: Singing with a 'held-back sound'. Finding your 'R&B sound' or your 'darker belt'. Accessing and training the vocal mode Curbing.
Week 7: Volume, dynamics and vocal modes: Accessing and training the vocal mode Neutral – the most extensive mode of them all. It can sound breathy, non-breathy, sweet, speech-like, classical, or even like a rock 'belt'!
Week 8: Voice work applications. Putting all that we have learned in the course together. Using the roadmap to the voice to design your own sound, develop your range, and troubleshoot when things don't work like you want them to.
---
Lesson materials
Each weekly live class is supported by lesson materials for your study: 'cheat sheets' for all technique topics, inspiration playlists for each vocal mode, and videos with essential exercises.
---
---
Your online learning library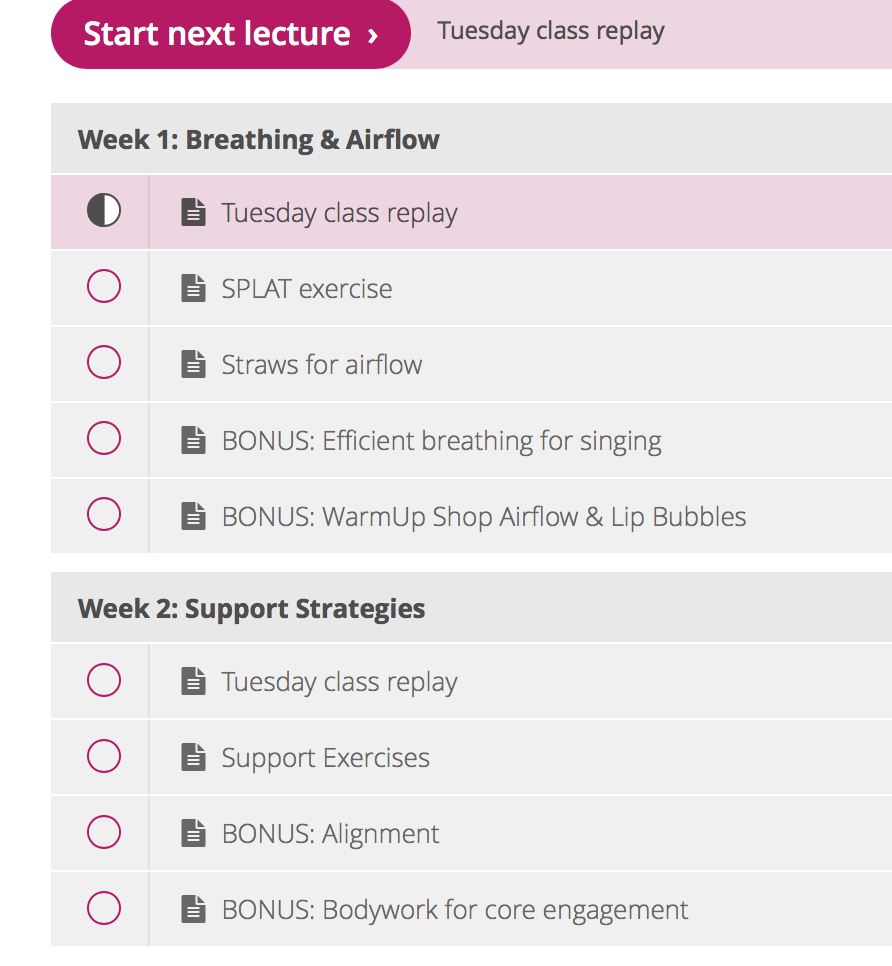 The course content all exist in an online library, where you can access them whenever you want to.
As a Sing Everything member, you'll have lifetime access to the course materials, and you'll be able to keep benefitting from the classes long after the 8 week live round of the course is over!
"The online platforms that Katja uses for her course are very easy to use and make the learning experience fantastic. The course page with the lesson materials and lesson replays is always open in my internet browser, it's like a reference library I can return to whenever I want to." – Ayelen Insua.
---
Guided practice
In between lessons, there will be some homework. I know… Most people associate 'homework' with tedious tasks that they have to do. But here's the thing: I never liked 'homework' either, and I was absolutely awful at practice. Until I figured out how to do it in a way that felt like play. That's why I'm inviting you to fall in love with singing practice too. In each week, I'll present you with a variety of ways to practice what we have learned – in a way that is totally doable even for the busiest of people. You choose your adventure for the week, and report back over the course of the week so that I can give you feedback and guidance. These highly focused, daily, short and playful explorations are also much more efficient and yield better results than trying to lock yourself up in a room to do "singing practice" for an hour every week!
---
Success stories
I've been singing for more than 20 years and my career has taken various turns, like releasing a couple of albums as a rock singer, doing an acoustic solo project, singing musical theatre, performing and touring with a 10-piece Latin party band. One of the things I was struggling with in my singing, was that my muscles felt completely tense. When I had to sing 4-5 gigs in a week, or do a recording session, I was always struggling, and singing rock music felt really hard. I reached a point where I wanted to get rid of this problem, I wanted to sing with power, but without all the struggle. The problem was, although I had learned a lot from copying other singers and trying to figure out what they were doing, and also gained a good technical base from my voice lessons at the music school and conservatory, I still felt like I needed to access other techniques in order to solve my singing struggles.

Sing Everything was my first experience ever in taking a voice class online, and it was really good! Within the first 15 minutes of my first online class, I completely forgot I was in an online lesson, and felt like I was sitting in the same room, at the same table with Katja. She is so helpful and kind, respectful of all participants questions, and very clear in her explanations. It didn't even matter that English isn't my first language, I had no problem whatsoever understanding her.

In the course I learned using my support muscles, and became aware of how to make very powerful sounds without any discomfort whatsoever. The results were immediate, and it was really great to hear the immediate results in other participants' voices too. I also enjoyed working on modifying the vocal tract, and learn how to access more harmonics. I really like how my voice sounds when I'm applying all of those things! Before taking the course I had read the CVT book. But it wasn't until I had worked with Katja that the book made sense. Now, after the course, I'm reading the book again and it's all so much clearer!

As a teacher, I can also pass these new tools on to my voice students. Both beginners and experienced singers that I teach were blown away by the breath management tools, and are now more confident in their own voices!


Nicolás Tabarracci, Singer & Singing Teacher, Argentina
---
FAQ's about Sing Everything
How much of my weekly time will the course require?
Besides the weekly classes of 75 minutes, you'll get the most out of this course if you set aside 15 minutes of daily practice. This is a bare minimum – you're of course welcome to make your practice sessions longer than that 😉 But with 15 minutes a day, you'll already start building in the techniques you're learning into your 'muscle memory'. Every week, you will share the culmination of your voice work practice with me for feedback and guidance. This feedback opportunity is optional – you are not required to submit homework for feedback, but I do strongly recommend you do. Besides that, it's entirely up to you how much time you spend engaging with the class community and learn from observing the practice process of your fellow singers.